Give your dryer vents the attention they need with a thorough cleaning. Our technicians can lower energy bills and increase safety in no time.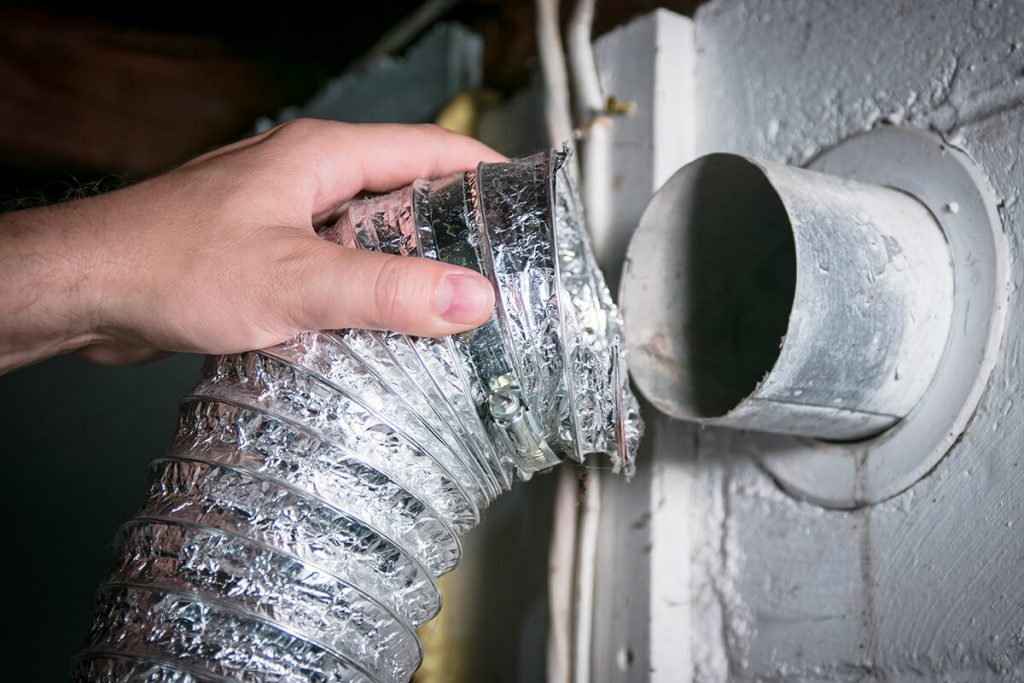 Dryer Vent Cleaning in the Greater Merced Area
When you think about it, a big portion of our lives is dedicated to doing laundry. Maybe you run a wash every day or just twice a week, but no matter the case, a great deal of lint is involved for each cycle. Dryer vent cleaning is a job commonly neglected by homeowners. The lint involved in each cycle can become a fire hazard if not cleaned at least once a year. Considering the few times homeowners need to do this, we understand how this can become a neglected task.
Your dryer vents should be cleaned at least once a year to maximize efficiency and minimize the risk of fires. The general rule of thumb for households with many occupants is to increase dryer vent cleaning to every six months.
How to Clean Your Dryer Vent
Unplug your dryer before you begin work. If it is a gas dryer, switch the supply valve to the off position to ensure you avoid gas leak or accidentally igniting a flame.
Pull the dryer away from the wall and disconnect it from the duct. Once removed, you may see a collection of lint in the back of the dryer in the exhaust duct.
Remove and clean the lint and debris with a cleaning brush. Vacuum out excess lint to ensure the duct is completely lint-free.
Locate the exterior vent outside and repeat step number four.
Check your ductwork for punctures, dents, or kinks. If it is damaged make sure to replace it because lint can collect in these places.
Even if you clean your dryer lint filter after every time you use it, lint can build up in the duct that vents to the outside. When it does, it takes longer to dry your clothes and can be a fire hazard. Cleaning your dryer vent every six months or once a year can prevent this from happening. If you are looking for a professional dryer duct cleaning in the Greater Merced area, contact Blaine Heating & Air Conditioning to schedule your appointment today!
We take pride in providing the Greater Merced area with dryer vent cleaning that is reliable and safe. If you are ready to schedule professional dryer vent cleaning with technicians you can trust, give us a call or contact us online!
Cleaning your dryer vents annually can help prevent accidental fires, allow for faster drying time, lower your energy bills, and keep your clothes looking good for longer. To take your safety to the next level, here are some helpful tips about dryer vent cleaning for fire prevention.
Helpful Tips to Help Avoid Dryer Vent Fires
Clear the lint out of your dryer after every load. If you don't clean it after every load you may want to check up on it today.
Collect your tools. Simple dryer vent cleaning tools can be found online or in hardware stores.
Clean your exhaust ducts once a year or every six months for households with heavy dryer use.
Turn off your dryer when you leave your home.
Upgrade to rigid metal ductwork and add a safety alarm to the dryer vent. It can warn you when lint builds up, giving you the reminder you need to clean your dryer vent.
Call 209-723-0062 today to schedule professional dryer vent cleaning with Blaine Heating & Air Conditioning!