Carbon Monoxide & Smoke Detectors
Feel safe and secure in your home with carbon monoxide and smoke detector installations and repairs. Call Blaine Inc. today!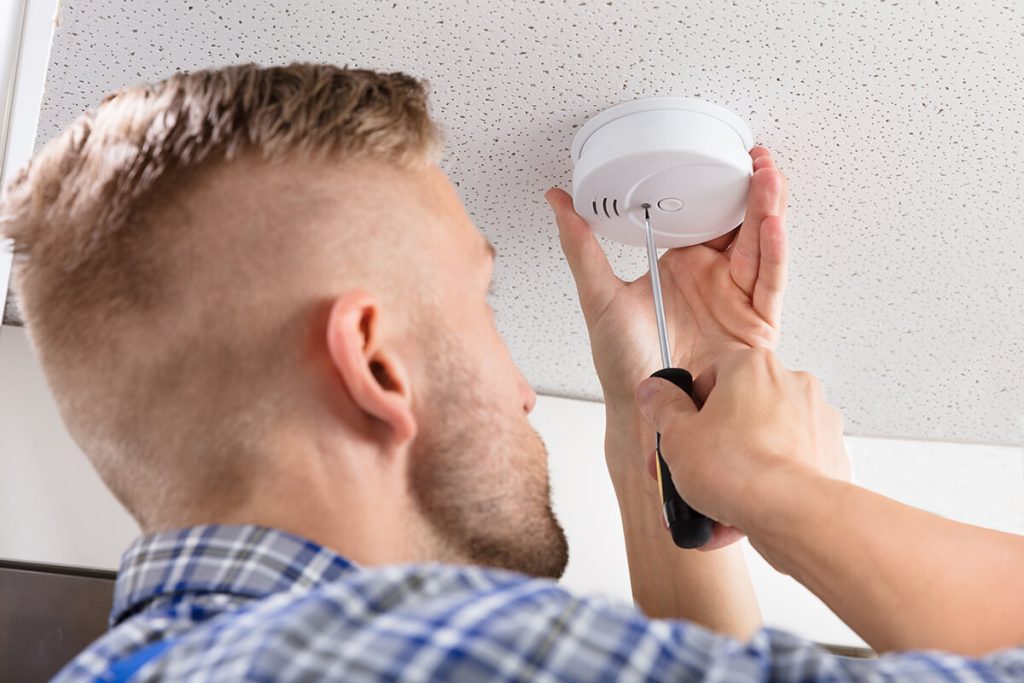 Feel Safe In Your Home With Carbon Monoxide & Smoke Detector Installation and Repair
A house fire can be one of the most devastating instances for any homeowner. The flames are destructive and the smoke can cause so much more than cosmetic damage, it can have suffocating effects. No matter how big or small the flame is, your space can be engulfed with smoke, putting your health at risk. House fires that absorb small amounts of oxygen release carbon monoxide instead of smoke. When the amount of carbon monoxide "smoke" in the air becomes excessive, the oxygen in your body is slowly replaced with carbon monoxide, leading to severe health issues and potentially death.
Since carbon monoxide detectors cannot detect smoke and vice-versa, we highly recommend installing both types of detectors in your home. Installing a carbon monoxide and smoke detector in your home is the most practical way to protect the safety of you and your family.
Prevent health risks for you and your family with carbon monoxide and smoke detector installation and repair from Blaine Inc. Heating & Air Conditioning.
Signs of Carbon Monoxide Poisoning
Carbon monoxide is a silent killer because the chemical is virtually invisible and completely odorless. Carbon monoxide can leak from appliances that run off of burning fuels such as gas stoves, furnaces, fireplaces, and grills. The poison can slowly leak over a long period or in high amounts quickly, and either amount of exposure can lead to harmful or even fatal outcomes. If your home does not have a carbon monoxide detector, be aware of the carbon monoxide poisoning signs:
Headaches
Blurred Vision
Dizziness
Nausea
Shortness of Breath
Weakness
 If your home uses gas-fueled appliances and you have been experiencing any of these symptoms, seek out medical attention immediately.
Carbon Monoxide Poisoning Prevention
To protect you and your family from carbon monoxide poisoning, take these extra steps so you can secure your safety:
Install a carbon monoxide detector: Blaine Inc. Heating & Air Conditioning technicians will be able to properly install carbon monoxide detectors near sleeping areas and in most occupied rooms.
Ensure your batteries are up to date: For both carbon monoxide and smoke detectors, check your batteries to see if they are up to date and functioning.
Keep gas-fueled appliances properly vented: For any appliance that relies on gas to function, make sure the surrounding area is clear as well.
Perform Annual Maintenance: Consider annual maintenance check-ups on all of your appliances so a professional can ensure your appliances are up to date, properly vented, and cleared out of any debris.
Is Your Home Protected by a Smoke Detector?
It is simple, a smoke detector can save a life. According to the National Fire Protection Association and the U.S Fire Administration, smoke detectors have saved 95% of homes.
Our experts at Blaine Inc. Heating & Air Conditioning want all of our customers to be protected in the possible event of a fire. If you live in the Greater Merced area and are seeking smoke detector repair or installation, contact us today! 
Safety is our top priority. When you are ready to install or repair a carbon monoxide & smoke detector give Blaine Inc. Heating & Air Conditioning a call at 209-723-0062.