Air Duct Cleaning & Installation
Air duct cleaning and installations can be a little bit technical. Blaine Inc. Heating & Air Conditioning has you covered for the dirty work.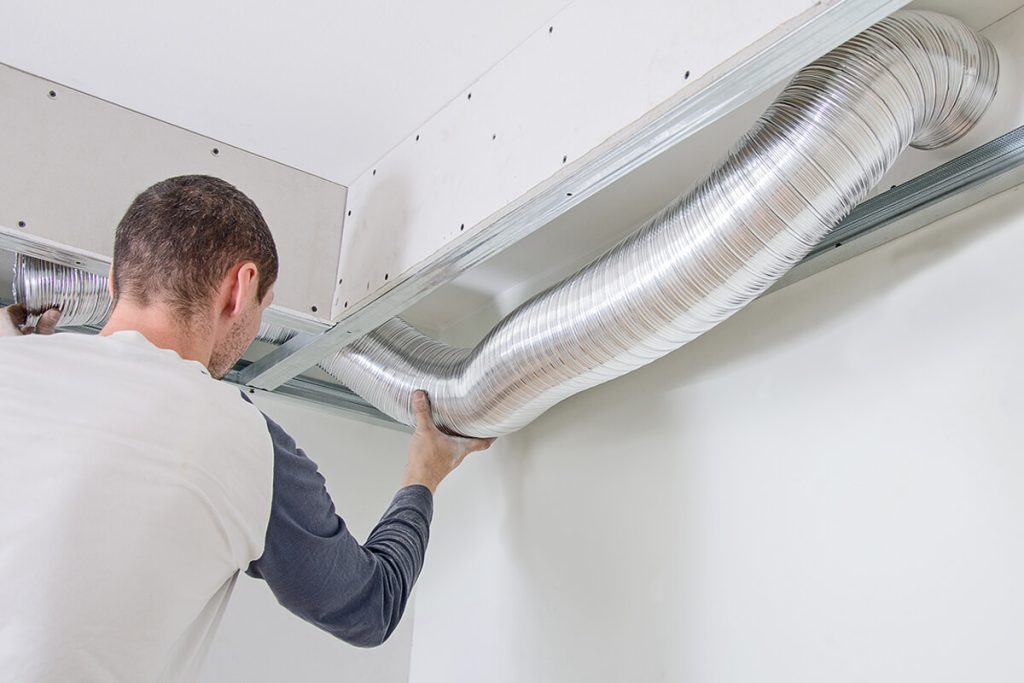 Ductwork Service by Blaine Inc. Heating & Air Conditioning
Whether we like to admit it or not, our air ducts probably get the least amount of attention within a home, yet they harness some critical components for maintaining a safe and breathable space. Leave your air ducts alone for too long and they can build up with dust, debris, and even mold. This can cause hazardous health issues. The experts at Blaine Inc. Heating & Air Conditioning understand the importance of duct cleaning and the benefits that follow. Put your air ducts first today and give your technicians a call!
Why is Air Duct Cleaning Important?
Proper maintenance and professional air duct cleaning can have positive effects on your health, bills, and comfort.
Mold: Air ducts that go years without being cleaned can capture bacteria and moisture giving mold an ideal place to live. If your air ducts become covered in mold, every time your air duct is turned on, it will be dispersed throughout your home and into the air you breathe. Besides its unpleasant smell, mold can cause rashes, allergic reactions, and can trigger asthma attacks.
Cost:

A clean air duct will improve efficiency for your airflow overall. Failing to have your air ducts cleaned means your system will have to work harder to perform causing your energy bills to climb. Ensure you can save money throughout the Greater Merced area weather year-round and schedule an air cleaning service today.

Comfort:

The general rule of thumb is to have your air ducts cleaned every 3-5 years to maintain a comfortable environment and Blaine Inc. Heating & Air Conditioning cares about our customer's comfort ever since 1970. Maximize your cost efficiency savings and breathable air with a proper air duct cleaning service today
Preparation Tips for Air Duct Cleaning:
Clear a path
Clear areas surrounding duct opening
Make sure pets are out of the way
Cover furniture
Want to schedule an air duct cleaning in the Greater Merced area today? Contact us at 209-723-0062 for a friendly service you can trust!
If you have decided to install ductwork in your home or place of business, careful planning will have your ductwork installation process feel like a breeze. Once you have found the best technician to help you with ductwork installation, then you have to find the type of ductwork which will best suit you and your space. Your technician will be able to help you make a decision.
Until then, here are the different types of ductwork:
Rigid Ductwork comes in different shapes and sizes with one thing in common – they are all built out of tough material so they do not easily break. Hence the name "rigid". Rigid ductwork can be broken down into three different styles.
Sheet Metal Ducts – Sheet metal ducts are made out of either aluminum or galvanized steel. These two materials offer lightweight, easy installation and hold better air quality for a long time due to their "mold-resistant" nonporous material.
Fiberglass Lined Ducts – Can you guess what material these are made out of? That's right – fiberglass! More commonly used in commercial buildings, fiberglass-lined ducts can provide thermal insulation and muffles sounds. Unfortunately, this option is more prone to mold growth than sheet metal ducts and is difficult to clean without damaging the lining.
Fiberboard Ducts – Fiberboard is a self-sufficient material because it does not require additional insulation. Fiberboard is compressed fiberglass sealed by a resin. This option is the least expensive choice, however, due to the rigid internal matter, airflow efficiency is reduced.
Flexible ducts are plastic air ducts that are round tubes with a metal spiral to give it some shape and give it the title of "flexible" and are encircled with insulation to make it more durable.  Installing flexible ductwork takes precision and care because these systems are easily damaged and flimsy. Flexible ductwork is much less expensive than metal types of ductwork and is best used in awkward or tight spaces.
 Don't see your Ductwork question directly on our website? Talk with an expert from Blaine Inc. Heating & Air Conditioning today. We are always happy to help!